Financing Your New Air Conditioning or Heating Equipment Purchase

Hearth Home Improvement Financing
Hearth helps homeowners make smart financial decisions about their renovations. We show homeowners how to craft an accurate budget for their remodels. When appropriate, we connect homeowners to financing options.
It's as easy as:
Pre-Qualify - Customers complete a short online financing request and can get immediately pre-qualified by up to 17 lending partners without affecting their credit score.
Pick Payment Plan - Customers apply for their preferred loan option and if approved, receive funding in as few as 24 hours.
Get Funds - Contractors find customized payment plans for each customer. They can offer financing before an on-site visit, in the home, or as a follow-up.
Please contact us to find out which financing options are available to you, or to learn about special financing promotions.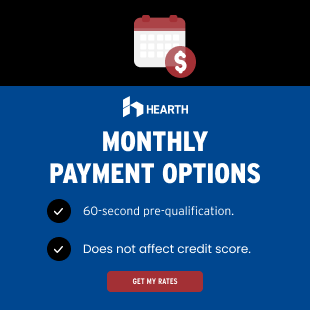 PowerPay
Receive instant approval on up to $100,000 for any Heating, Venting, and Air Conditioning home improvement loan with no hidden contractor fees, credit cards or prepayment penalties. With a PowerPay home improvement loan you can repair or purchase a brand new, energy-efficient HVAC system. HVAC equipment and any installation are included. You can pay for your home improvement over time through low, fixed rates with low, fixed monthly payments. It's easy to apply for a loan online and approval comes in seconds
Fair, Reasonable and Lowest Payment Possible!
Rates starting at 8.99%
Up to 15-year terms
Borrow up to $100K
No prepayment penalties or hidden costs
No Credit Card
Click To Apply For HVAC Financing
Loan Calculator: